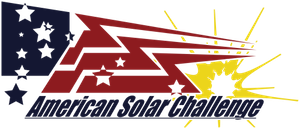 Plans for 2020 are underway! We are preparing for both the next Formula Sun Grand Prix and American Solar Challenge for July 2020. Get ready to blaze another trail westward! The American Solar Challenge will be in partnership with the National Park Service, with the 2020 route following the Oregon Trail from Independence, MO to Boise, ID.
2020 will also mark a milestone celebration – the 30th anniversary of collegiate solar car raycing in the US! The American Solar Challenge event as we know it today began with GM Sunrayce USA in 1990. While the event format, name, and vehicle classes have evolved through the years, the event continues to challenge university teams to design and build a solar powered vehicle and show the capabilities of that vehicle through experiential learning events.
Current Schedule of Events:
July 10-13: Scrutineering (inspections of solar cars)
July 14-16: Formula Sun Grand Prix (track event & qualifier)
July 17: Display Day (transition to ASC, meetings, etc)
July 18-25: American Solar Challenge (Independence, MO to Boise, ID)
Track Location – Heartland Motorsports Park in Topeka, KS will be the location for scrutineering and Formula Sun Grand Prix 2020. The facility features a 2.5 mile road course track and is conveniently located 90 minutes from Independence, making for an easy transition to the American Solar Challenge display day and start line. Heartland Park was the location of the very first FSGP held in 2000, and we are excited to bring the solar cars back to Topeka for 2020.
American Solar Challenge Checkpoints & Stage Stops – come see the solar cars and meet the teams!
A preliminary ASC 2020 route & loop Google Map is available, however this is subject to change based on based on the final route drive, feedback from the locations, construction, or other circumstances. Approximate distances of the loops that are currently being considered are listed below.
Topeka Loop (43 miles)
Grand Island (21 miles)
Gering (18 miles)
Casper (21 miles)
Lander (34 miles) – significant construction underway/will re-evaluate routing in the spring
Montpelier (46 miles)
Twin Falls (41 miles)
We are looking for sponsors to help make this educational opportunity possible as well as volunteers for a variety of roles, including communications/media and observers. If you are interested in getting involved, contact us at ascinfo@americansolarchallenge.org.
Will your team be joining us? To register, visit the Team Status page and start submitting registration paperwork. Be sure to download the latest event regulations to ensure that you will be able to comply with all requirements for entering the competition.
Interested in volunteering to be an Observer? Official Observers travel with the solar car teams and document what occurs on the road. Observers must be available for Observer Training in Independence, MO on July 17 and the full American Solar Challenge July 18-25. For more information and to apply, please download the Observer Application.
Would you consider supporting the event? Experiential learning opportunities such as this do not happen with the support of our sponsors and donors with financial and in-kind gifts. Our sponsorship information provides details on available sponsorship levels as well as the opportunity to make a donation of any size through PayPal. Thank you for your support!