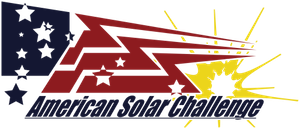 The American Solar Challenge (ASC) is a multi-day, 1,500-2,000 mile cross-country endurance rally across North America. The event is typically held every other year during the summer and is open to collegiate level solar car teams from countries all over the world. The routes have varied greatly over the course of the event's rich history, but they are always designed to provide teams with a great opportunity to demonstrate their solar cars under real world driving conditions and thoroughly test the reliability of all onboard systems.
Successfully completing the ASC competition is a hugely rewarding accomplishment, but it requires over a year of intense focus and hard work from every team that enters the race and there are no shortage of hurdles to overcome along the way. Teams must first design and build a solar powered vehicle that meets every requirement set forth in the regulations. They are required to submit vehicle design reports and other documentation to race officials prior to the event for approval. The best teams will conduct as much testing and optimization of their vehicle as possible before the racing starts. When teams arrive on site for the event, their first task is to pass Scrutineering inspections where race officials closely inspect every aspect of their vehicle to ensure full compliance with the regulations. Cars that pass Scrutineering move on to the Formula Sun Grand Prix (FSGP) track race, where they must complete a pre-determined number of laps with multiple drivers to qualify for ASC.
Teams that make it safely this far have proved their solar cars are ready to attempt the cross-country journey. However, ASC presents a whole new set of challenges than FSGP and requires strategy to be adjusted accordingly. The mix of city and highway driving on public roads of varying conditions makes careful energy management critical. As with FSGP, teams must carefully monitor weather patterns and adjust driving strategy accordingly, however the longer duration of the race makes it more likely that a wide range of weather conditions will be encountered. Teams must also ensure that they follow the race route precisely and obey all the rules of the road or they risk costly time penalties. ASC is intended to test the reliability and endurance of all solar car systems. Teams often have to get creative in solving issues along the way since there aren't as many resources on the side of a highway as there are at the race track.
The winner of ASC is determined by the total elapsed time to complete the race route. If your university is interested in entering the next ASC competition, please download the regulations for the event and start the event registration process.