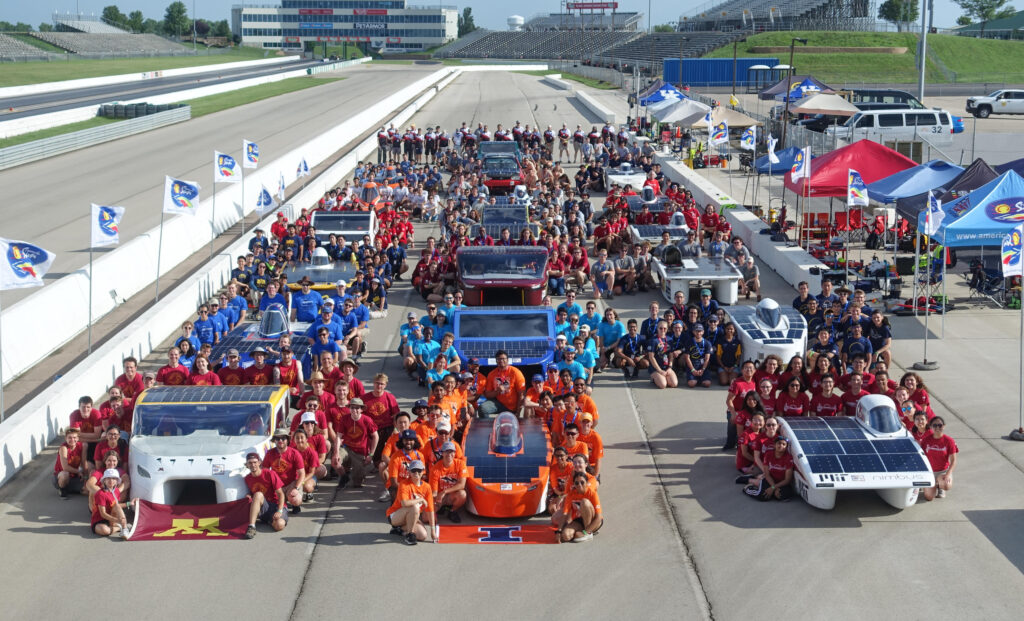 See The Solar Cars
American Solar Challenge and Formula Sun Grand Prix are always free an open to the public. The events provide opportunities for the public to get up close looks at the cars across the country. Please check the webpage for an upcoming event for schedule information and viewing opportunities.
If you have a local solar car team they may also have a schedule of events where their team and/or car will be in attendance. You can see a list of solar car teams on our Event Participants Page.
Volunteering
If you'd like to get more involved with solar car racing than spectating, we have adult volunteer opportunities available!
The American Solar Challenge needs volunteer observers (of any adult age) to travel with the solar car teams and support event staff at stops.
The Formula Sun Grand Prix needs volunteer corner workers to fly racing flags and report incidents to race control around the track.
The Event staff is also composed of volunteers, former solar car team members or industry professionals who are interested in joining staff should contact us directly.

Full details on volunteering and any current opportunities are available on our volunteering page.
Sponsorship
Solar Car racing events in the United States rely on sponsorships and partnerships to happen. We are always looking for support from individuals, companies, educational institutions, and locations along the race route. For more information on making a tax deducatable donation, visit the sponsorship page.
Info For Teams
If you are part of a new or existing solar car team, be sure to download the latest revision of the regulations and register for the next solar car race. Also keep an eye out for announcements on an upcoming IEF Solar Car Conference or look through reference material from past conferences to aid with your vehicle design. If you are new to the event, check out the info for new teams.