Innovators Educational Foundation is pleased to announce Formula Sun Grand Prix 2011! Our annual track raycing event is being held at the Indianapolis Motor Speedway from May 2-7, 2011.
A PDF of the event program can be downloaded here. Please check the FSGP 2011 team status page for information on registration, paperwork, payment, and inspection status. You also may want to review the FSGP 2011 regulations. Registration is open to teams at educational institutions around the world.
Track
The Indianapolis Motor Speedway (IMS) is holding their 100 year anniversary weekend on May 7-8. They have invited us to be part of the festivities, and together, arrangements have been made to host Formula Sun Grand Prix (FSGP) at their facilities. FSGP will be one of several events occurring over the weekend during Emerging Tech Day – Saturday, May 7, 2011 that supports Indy's original purpose of serving as a testing ground for new technology.
Schedule
We hope the teams and public are excited about this unique opportunity to race at the Brickyard and join us in Indy! We are having 2 days of scrutineering and 3 days of raycing:
Mon, May 2 – arrive at Indy after 6pm
Tue-Wed, May 3-4: scrutineering
Thu-Fri, May 5-6: raycing from 10:00am to 6:00pm
Sat, May 7: raycing from 10:00am to 5:00pm
Sat, May 7: Pit crew competitions from 5:00pm to 6:00pm
Sat, May 7: Awards ceremony at 6pm
FSGP 2011 Standings
Team # – Name
Day 1 Laps
Final
Day 2 Laps
Final
Day 3 Laps
Final
Total Laps
Final
35 – University of Minnesota
206
192
171
569
5 – Illinois State
175
191
164
530
11 – Northwestern University
174
194
146
514
9 – Iowa State
83
164
156
403
3 – University of Kentucky
125
67
125
317
13 – Michigan State
0
124
83
207
4 – Western Michigan
101
15
91
207
42 – Missouri S&T
0
4
90
94
2 – University of Michigan *
90
70
48
43
505 – New Mexico
0
2
0
2
* Demonstration class
| | |
| --- | --- |
| All Laps Forfeited | Some Laps Forfeited |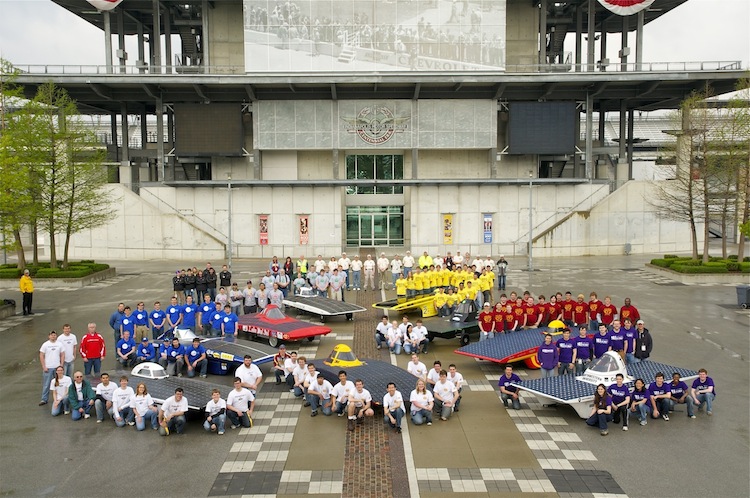 Photo Credit: Bob Phelan