These trophies recognize American Solar Challenge winners from 2022 forward. For previous winners see the Wilson Cup.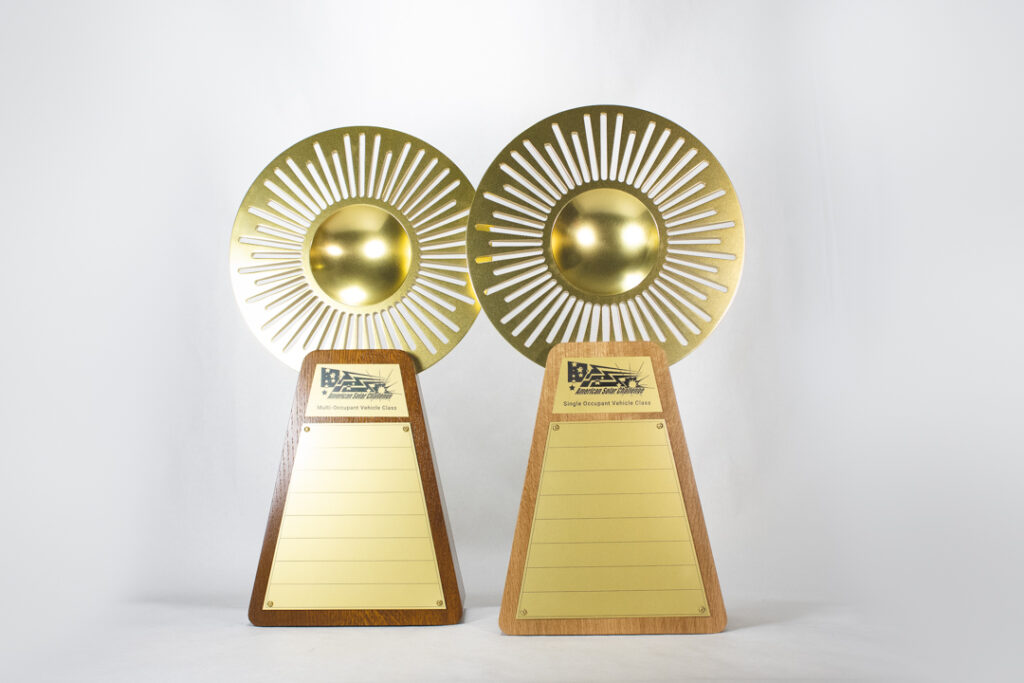 In 2022, the American Solar Challenge introduced our new traveling trophies for the Multi-Occupant and Single-Occupant Classes. The previous trophy, the Wilson Cup, was full after recognizing winners from 30 years of events (1990-2021). This pair of new trophies will recognize the winners of the American Solar Challenge for the next 30 years (16 events). Each year, the winners of each class take their trophy with them to display at their University, share with their supporters, and take with them to events until the next competition. Over the next 30 years these trophies will travel across the globe!
These trophies are 26″ tall and weigh 28 pounds. At its largest, the Stained White Oak base is 11″ wide and 8.5″ deep. The anodized aluminum "sun" is 13.875″ in diameter. The trophy with the darker stained base is the Multi-Occupant Class Trophy; the lighter trophy is the Single-Occupant Class Trophy. Each year the large plate will be engraved with the event info and the top three finishers of the class. Below is a digital recreation of the current trophy plates, click on a year to view detailed results.
Current SOV Class Trophy Plate
Current MOV Class Trophy Plate